Monthly Archives: September 2011
en garde!
en garde! is written for two toy pianos, music box, table top drum, cymbal monkey, wooden mallet and acoustic grand piano. It will have it's World Premier on Monday September 26th at the Colors of Music Festival in Barrie Ontario. The performance is at noon at Central United Church, 54 Ross St, Barrie Ontario.
A second performance will take place in Toronto at 7:00 PM on Friday September 30th at the North York Public Library's Sounds of Adventure program as part of  Culture Days, Canada.
The amazing  junctQin keyboard collective will be performing. Not to be missed!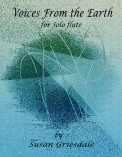 ORMTA Notes publication ran a review of Voices from the Earth for solo flute.
excerpt from the review…."Voices from the Earth is a collection of seven unaccompanied studies for flute. The collection ranges between intermediate and advanced flute playing levels and all are new, fresh, somewhat atonal and interesting. All of these studies are voices that create definite moods and pictures. This collection is a good addition to Canadian flute music, although intended to be used as studies, each piece could be used as a recital solo. Enjoy!"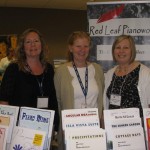 A busy summer of conventions, with CFMTA in Regina and the Summer Sizzle CNCM in Mount Forest Ontario. Here is a picture of us at our booth at the trade show. Six of the Red Leaf Composers were in attendance – Teresa Richert, Martha Hill Duncan, Janet Gieck, myself, Beverly Porter, and Joanne Bender and we presented a  session on 'Turning over a New Leaf' – a presentation on our new Red Leaf Pianoworks venture.