---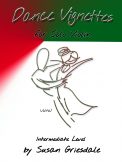 Dance Vignettes for Solo Violin -
Intermediate, Grades 5 to 8
An engaging collection of dances for solo violin using synthetic scales.
Sound &/or Score Samples

Click
Dance Vignettes Hard Copy book $15.00
Dance Vignettes Studio License $45.00
Dance Vignettes E-Book $12.00
Individual E-Pieces
---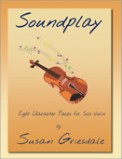 Soundplay -
Intermediate Grades 5 to 8
Eight charming character pieces for violin solo. Each piece features a double stop and each is based on a different scale or mode. The sound excerpts are beautifully performed by violinist Sarah Fraser Raff. Go to the news page and Links to read all about Sarah.
Sound &/or Score Samples

Click
Soundplay Hardcopy book $15.00
Soundplay Studio License $45.00
Individual E-Pieces
---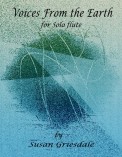 Voices from the Earth -
Intermediate - Early Advanced
For Solo Flute - performed by renowned flautist Dianne Aitken. Seven evocative pieces that offer a fresh and unique sound experience. These Contemporary melodies cover a broad musical landscape where you will discover a whole new world of sound. Languid, graceful, energetic, rhythmically precise, nimble, spirited, robust, distant, muted, - these are just some of the diverse moods you will come across as you explore the technical challenges within each 'Earthly Voice'!
Sound &/or Score Samples

Click
Voices from the Earth Hardcopy book $15.00
Voices from the Earth Studio License $45.00
Voices from the Earth E-book $12.00
Individual E-Pieces
---