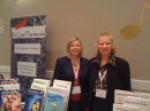 My colleague, Martha Hill Duncan and I had a fun time in Red Deer Alberta at the APTA (Alberta Piano Teachers Association) Convention.
Here we are at the trade show and also the airport where Martha took a picture of us waiting to board. This picture was initially upside down (must have held the iphone the wrong way!). That was a sign of our few days to come as we experienced first, a lost credit card, then, a lost cheque, and finally lost car keys!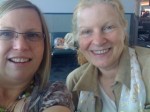 But the convention was simply wonderful and the people of APTA were very gracious
and welcoming. We would love to go back!

Review
November 2005
My three newly released collections are reviewed by CFMTA's The Canadian Music Teacher Magazine. "A very modern sounding collection, these works come with a description of the intended sound of each piece."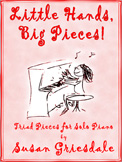 "Her goal in composing ' Little Hands, Big Pieces' was to create music that "is easily learned, easy to teach but sounds difficult." A good way to work with major triads, Griesdale has built these pieces almost entirely of them."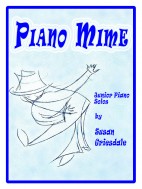 'Piano Mime' is a collection of character pieces designed to introduce students to a new sound and delve into greater technical challenges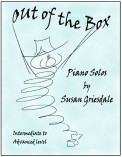 'Out of the Box' is another collection of character pieces that is both cheery and quirky. Works in this 8 piece collection include Carousel, Bounce, Rattle'n Squeak, Shhhhh, The Jitters, Spriggans, among others.
'Gentle Dissonance for the Student' – I gave a presentation to the members of the Etobicoke-Mississauga branch of ORMTA, introducing a variety of pieces from all levels and discussing the pedagogy behind the music. These miniatures are written to give the student the opportunity to explore new sounds as they tackle technical challenges.