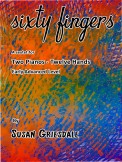 A sextet for Two Pianos, 12 Hands, Sixty Fingers, was commission by Margie Feduck and premiered at the 2016 Port Colbourne Music Festival of the Arts. Our six performers included Margie Feduck, Angela Willet, Sheila Brown, Lynne Brazeau, Linda Caldwell and Ted Ellis.

This sextet is a high energy, percusive musical romp with a few humorous moments along the way. This sextet is a big crowd pleaser and particularly well suited to close any recital programme.
A score sample and sound sample can be found on the  Composition/Ensembles page.
Elements will be performed by She Sings Women's Choir under the direction of Martha Hill Duncan, at the Kingston Public Library in Kingston Ontario, on June 2, 2013.
en garde!
en garde! is written for two toy pianos, music box, table top drum, cymbal monkey, wooden mallet and acoustic grand piano. It will have it's World Premier on Monday September 26th at the Colors of Music Festival in Barrie Ontario. The performance is at noon at Central United Church, 54 Ross St, Barrie Ontario.
A second performance will take place in Toronto at 7:00 PM on Friday September 30th at the North York Public Library's Sounds of Adventure program as part of  Culture Days, Canada.
The amazing  junctQin keyboard collective will be performing. Not to be missed!