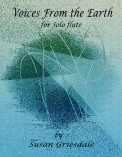 ORMTA Notes publication ran a review of Voices from the Earth for solo flute.
excerpt from the review…."Voices from the Earth is a collection of seven unaccompanied studies for flute. The collection ranges between intermediate and advanced flute playing levels and all are new, fresh, somewhat atonal and interesting. All of these studies are voices that create definite moods and pictures. This collection is a good addition to Canadian flute music, although intended to be used as studies, each piece could be used as a recital solo. Enjoy!"  
'Soundplay' was reviewed by ORMTA Notes Magazine.
"Soundplay by Susan Griesdale, is a set of eight short, one page character pieces for solo violin. Each piece features a double stop from the unison to the octave and each is based on a different scale or mode – whole tone, chromatic, blues, octatonic, Dorian, Mixolydian, Aeolian and Pentatonic. For easy reference, as set of scale samples is found at the back of the book.
The result is a charming collection of works for violin students in the RCM Grade 5 to 8 range, offering contemporary yet tonal compositions that convey many musical moods.
The pieces are very accessible, mostly in the 1st and 3rd positions, but including spots in the 2nd and 4th positions, and 'Water Sprites' reaches the 5th position. The pieces have bowing and fingering suggestions, but there is ample room for students and teachers to add their own choices. The 'Highland Fanfare' with its catchy Scottish flavor offers an unusual challenge using fifths: 'Banter' features a good workout in octaves, tempo changes and dialogue; 'I Remember' and 'As I Wander' are more contemplative in nature. 'Will You?' requires nimble fingers; 'Stomp' is energetic and colorful giving good practice switching between 5/8, 4/8 and 3/8 time signatures; the 'Jolly Rondo' with its spirited rhythm is especially suited to the violin and will quickly become a favorite!"
Review
Winter Issue 2010
My 'Let's Pretend'   book was reviewed by the New Brunswick RMTA Quarter Note publication in their fall issue as part of their review of Red Leaf Pianoworks. http://www.nbrmta.com/
"'Let's Pretend' – Susan Griesdale (Grades 1-4) Great pieces for those students with big imaginations.
'I am the King!!'(2) includes the fanfare trumpets and fun dotted rhythms;
'I'm Invisible' (1/2) is very original and sure to please many. The first 2 lines start with the same music and the music gradually disappears, one beat at a time, until the end."
Review
Spring Issue 2010
My Piano Poem 'Lavender Dreams' was reviewed in the Spring edition of the Nova Scotia RMT's Arabesque publication! See pg 8.
"Lavender Dreams is an easy and flowing piece that will provide your students with a simple, yet enjoyable experience, allowing them to expand their abilities in chord arpeggiation, and more importantly, in voicing. Susan has done a wonderful job at keeping it simple, but captivating the performer and audience in what is a beautiful, graceful and emotional piece of music."

Review
Winter Issue 2009
The ORMTA Notes magazine published a review of my 'Little Hands, Big Pieces' book!
"The difficulty level of these works range from Grades 1 to 4. As the title suggests, these pieces have great potential for teaching triads in solid, broken and chord form. There are fifteen pieces, mostly one page in length. There is a good mixture of time signature here including one in 8/4. Interesting titles match how the pieces should sound an be played. My personal favorite, 'Big Foot' has solid triads played in the lower register. The chords occasionally come in on the 1/2 count giving Big Foot a skip to his steps. There is also a great use of black keys in a piece called 'Rock Climbing' as the solid triads ascend chromatically. A short description gives insight into how each piece should be played. I think students will really enjoy learning how to play triads in this format!"
Review
November 2005
My three newly released collections are reviewed by CFMTA's The Canadian Music Teacher Magazine. "A very modern sounding collection, these works come with a description of the intended sound of each piece."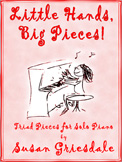 "Her goal in composing ' Little Hands, Big Pieces' was to create music that "is easily learned, easy to teach but sounds difficult." A good way to work with major triads, Griesdale has built these pieces almost entirely of them."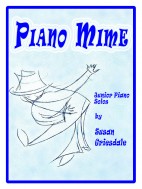 'Piano Mime' is a collection of character pieces designed to introduce students to a new sound and delve into greater technical challenges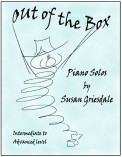 'Out of the Box' is another collection of character pieces that is both cheery and quirky. Works in this 8 piece collection include Carousel, Bounce, Rattle'n Squeak, Shhhhh, The Jitters, Spriggans, among others.
Clavier Magazine wrote a review of my 'Little Hands, Big Pieces' and my 'Piano Mime' books.
"Students can use their creativity to explore new sounds with these pieces. A wide range of the keyboard is used, yet the hand spans are appropriate for the levels these book are intended. 'Little Hands, Big Pieces' uses blocked and broken triads to create a variety of sounds and moods. This is an excellent study of chords. All the pieces in these books have a clean look and are easy to read with many details, such as dynamics, tempos and metronome markings included. The titles and artwork are imaginative and appealing for young children."
The Manitoba RMT  Journal wrote a review of my 'Out of the Box' book.
"The eight pieces included in this collection have all been written without key signatures, showing all accidentals on the music. A Ms Griesdale states, 'the music is designed to be light-hearted and whimsical'. All selections here are a move away from traditional harmony. The dissonance allows students the opportunity to express the dynamics and felling s suggested by the composer's titles and performance comments. The tricky rhythms used in all the pieces tend to be played in repetitive patterns so that the student can keep up with the quick changes of pitch. Dynamic changes cover the extremes and make and exciting canvas for any performer. This book provides and interesting introduction to contemporary music for the young pianist."