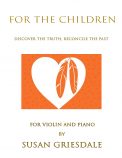 For the Children -
Level 3 - 4
The winner of the CFMTA 2022 Call for Compositions - Instrumental with Accompaniment. Grades 3 - 4. Discover the Truth, Reconcile the Past This piece was written as a response to the news of the missing indigenous children from residential schools across Canada. The music is a little bit sad but also full of hope. The violinist is Salma Khakimov and the pianist is Nathalie Tsoy. Both very gifted musicians that I was very fortunate to work with.
Sound, Score &/or Video Samples

Click
For the Children YouTube video
View Video
---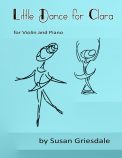 Little Dance for Clara -
Early Intermediate
$11.00
A charming little dance for violin and piano. This is sold as a digital download and contains the complete score as well as individual scores for piano and violin.
Sound, Score &/or Video Samples

Click
---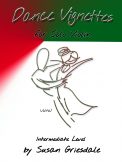 Dance Vignettes for Solo Violin -
Intermediate, Grades 5 to 8
An engaging collection of dances for solo violin using synthetic scales. Look for, both, the description of each Dance and the bio of our wonderful violinist, Andrew Dicker, at the bottom of the videos.
Sound, Score &/or Video Samples

Click
Dance Vignettes Hard Copy book $17.99
Dance Vignettes Studio License $45.00
Dance Vignettes E-Book $12.00
Individual E-Pieces
---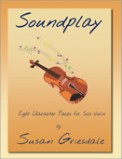 Performer:
Sarah Fraser Raff
Soundplay -
Intermediate Grades 5 to 8
Eight charming character pieces for violin solo. Each piece features a double stop and each is based on a different scale or mode. The sound excerpts are beautifully performed by violinist Sarah Fraser Raff.
Sound &/or Score Samples

Click
Soundplay Hardcopy book $17.99
Soundplay Studio License $45.00
Individual E-Pieces
---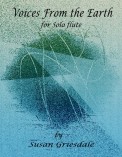 Voices from the Earth -
Intermediate - Early Advanced
For Solo Flute - performed by renowned flautist Dianne Aitken. Seven evocative pieces that offer a fresh and unique sound experience. These Contemporary melodies cover a broad musical landscape where you will discover a whole new world of sound. Languid, graceful, energetic, rhythmically precise, nimble, spirited, robust, distant, muted, - these are just some of the diverse moods you will come across as you explore the technical challenges within each 'Earthly Voice'!
Sound &/or Score Samples

Click
Voices from the Earth Hardcopy book $17.99
Voices from the Earth Studio License $45.00
Voices from the Earth E-book $12.00
Individual E-Pieces
---